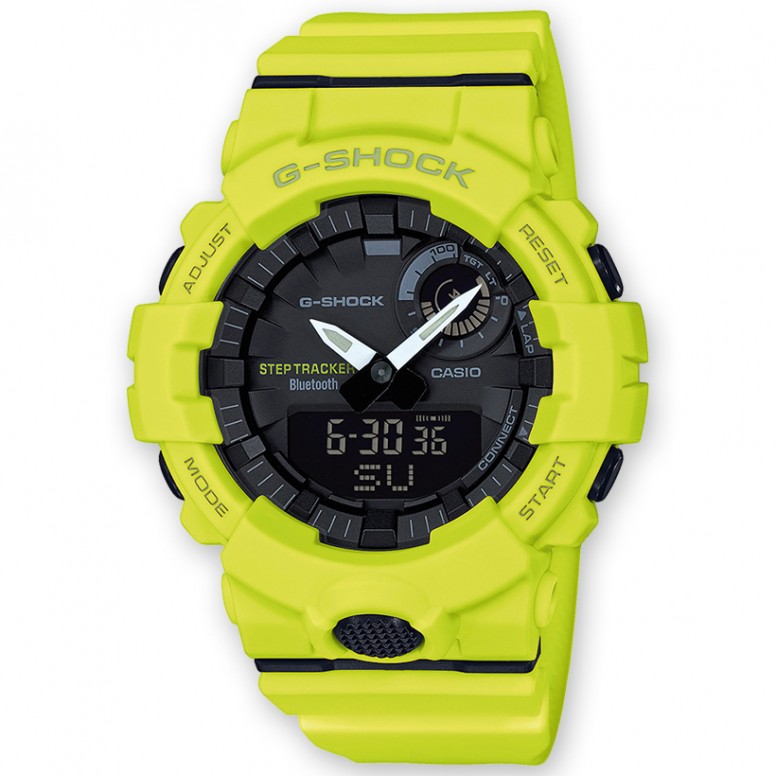  
Casio G-Shock
GBA-800-9AER è un orologio da Uomo Bluetooth® Smart Sportivo Analogico e Digitale con luce led Antiurto Cronografo allarme. Funzioni: Bluetooth® Smart. La speciale tecnologia Bluetooth® per il risparmio energetico garantisce lo scambio di dati a basso consumo con un semplice clic sull\'apposito pulsante. Tramite Bluetooth® è possibile collegare l'orologio allo smartphone accedendo così ad una serie di funzioni utili desiderate. Super illuminazione. Premendo un pulsante il quadrante viene illuminato in un colore alla moda. Antiurto. La costruzione anti urto protegge da colpi e vibrazioni. Smartphone time. Funzione ora mondiale. La funzione ora mondiale mostra l'ora di fino a 29 fusi orari. Cronometro - 1/100 sec - 24 ore. Rilevazione del tempo trascorso. La frazione indica l'unità di misura mentre il numero indica il tempo massimo di misurazione. Lap Memory 200 / memoria 200 giri. E' possibile memorizzare il tempo pausa, i giri e i parziali insieme alla data e visualizzarli in seguito. Ciascun inserimento è costituito da: data, tempi di arresto, di giro e intermedi. La memoria può contenere fino a 200 record. 5 allarmi giornalieri. L'allarme giornaliero ricorda gli eventi che si ripetono ogni giorno emettendo un segnale acustico al momento impostato. Questo modello è dotato di 5 allarmi indipendenti per ricordare in modo personalizzato appuntamenti importanti. Funzione di spostamento delle lancette. Con la pressione di un tasto, le lancette si spostano permettendo la totale visibilità di funzioni quali cronometro o data. Calendario automatico. Una volta impostato, il calendario automatico visualizza sempre la data esatta. Formato 12/24 ore. L'ora può essere visualizzata a 12 o 24 ore. Vetro minerale. Il vetro minerale, robusto e maggiormente resistente ai graffi, protegge l'orologio da danni antiestetici. Cassa in resina. Cinturino in resina. La resina è di tipo sintetico, un materiale ideale per i cinturini grazie alla sua estrema resistenza e flessibilità. Buckle. 2 anni - 1 batteria. La batteria alimenta l'orologio per ca. 2 anni. Classificazione di impermeabilità (20 bar). Perfetto per l'immersione in apnea senza attrezzatura: l'orologio è impermeabile fino a 20 bar (ISO 22810). Dimensioni (A x L x P) 54,1mm x 48,6mm x 15,5mm. Peso ca. 61 g.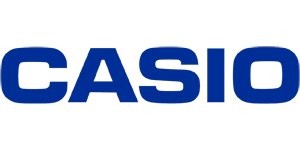 Data sheet
Genere

Uomo

Tipologia

Fitness

Stile

Sportivo

Display

Analogico e Digitale

Materiale cassa

Resina

Materiale cinturino

Resina

Movimento

Al quarzo (batteria)

View the trust certificate

For further information on the nature of the review controls, as well as the possibility of contacting the author of the review please consult our CGU.
No inducements have been provided for these reviews
Reviews are published and kept for a period of five years
Reviews can not be modified: If a customer wishes to modify their review then they can do so by contacting Verified Reviews directly to remove the existing review and publish an amended one
The reasons for deletion of reviews are available here.
5 /5
Based on 2 customer reviews
Salvatore published the 06/07/2019 following an order made on 21/06/2019
Molto buono, conforme alle mie aspettative, lo raccomando!